How to Extend Your Hulu Account when Traveling Outside US
This guide helps you extend your Hulu subscription if you do not have a US issued credit-card or a US registered PayPal Account. Hulu requires users to pay on their website using a US issued credit-card or US registered PayPal account.
Note: To create a new Hulu account, please follow the Guide for Subscribing to Hulu
Here's what you need:
A Hulu Plus Code by Email.
1. Get a Hulu Plus Code by Email – to Extend Your Hulu Account
To extend your Hulu account and get past Hulu's payment restriction you need a 3 Months Hulu Plus code by email which costs $29 USD. This code allows you to extend your Hulu account with three months.
The whole process takes a few hours. You will receive via email the card and all the required information to get your Hulu account.
Please see below how the item looks on the provider's website.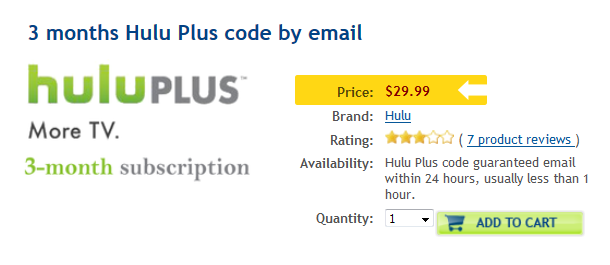 You can buy the Hulu Plus code by Email from this provider:
http://www.buyfrompowerseller.com/hulu-plus-code/
2. Use Email Instructions to Extend Your Account
Extend your Hulu Account using the code and instructions.
And make sure DNSProxy.tv is configured on the devices you wish to use to watch Hulu.